Features:
Real-time Video Recording
Complete Digital Clock Function
Wifi IP Network Function
IR Night Vision
Support Smartphone Tablet APP Remote View and Control
Support Motion Detective Recording
Support 32GB TF Card in Max,Cycle Recording
Support recording and charging at the same time
Video Resolution: 1920x1080P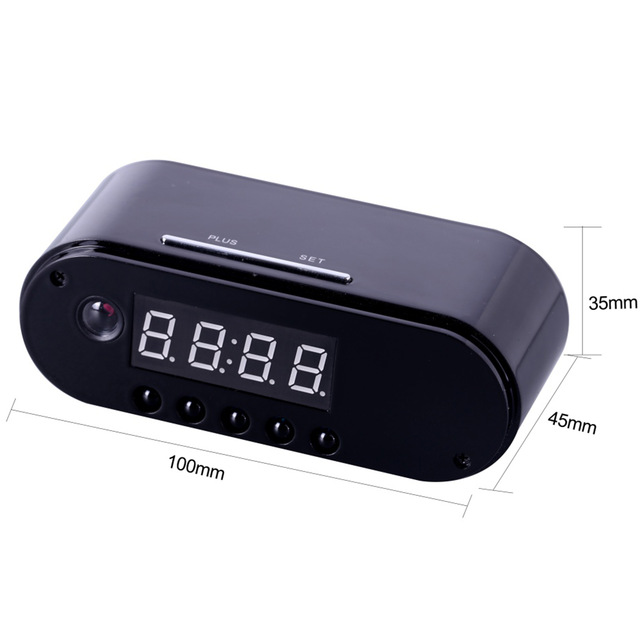 12 Hour System: A mini camera hidden in the regular alarm clock,Specially customized 12-hour system which is easier to read time than 24 hour system.
Motion Detection Alarm Function:Alarming Notifications will be transferred to your Smartphone when the motion detection is activated. When you go out, you can set your camera to alarm you when camera detects movement.
Loop Recording::Insert the Micro SD card into its slot,power it on,the camera will start to record automatically.When the memory space is full,the camera will overwrite the files from oldest to newest.
1080P HD VIDEO:The video resolution 1920 x 1080P,you can see exactly what's going on through video.Included 2000 mA rechargeable battery.
NIGHT VISION:Hidden Camera Alarm Clock offer night vision, it can see and Record in Darkness,IR night vision goes better when the unit is being charged.And these special IR lights are totally invisible to the human eye.
IR Distance(m): 5M
Technology: Infrared
Alarm Action: Local Alarm
Viewing Angle (Degree): 150°
Supported Operating Systems: Windows 7,Windows Vista,Windows 98,Mac os,Windows 8,Windows XP
Supported Mobile Systems: Android,iOS
Video Compression Format: H.264
Model Number: Z10
High Definition: 1080P(Full-HD)
Connectivity: IP/Network Wireless
Power Consumption(W): 5W
Network Interface: Wi-Fi/802.11/b/g
Type: IP Camera
Sensor Brand: SONY
Power Supply(V): 5V
Lens (mm): 3.6mm