The main feature of this device is its support for watching the live video stream captured by it online on your cellphone. Moreover, it can also store the recorded videos locally, and supports a high-volume memory expansion. Due to its online monitoring feature, this device is especially useful for shops, offices and homes. So get this cool Wi-Fi smoke detector hidden camera today!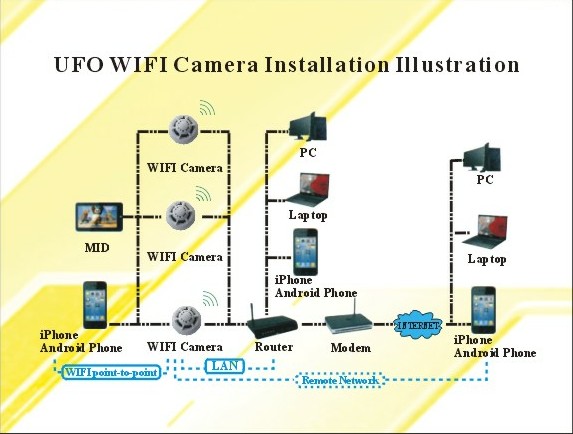 Highlight:
1. Take video and shoot pictures anytime by one touch, and cycle recording is available.
2. Iphone / Android smart phone WIFI connect direct monitoring.
3. Iphone/Android smart phone connect internet monitoring.
4. Continue Recording While Charging. You can take the recording anytime, don't need to wait for the battery charged.
5. Support the local storage and mobile phone wireless download.
6. Support cell phone online watching. Very simple to monitor your home or shops or office via internet by your phones.
7. Point-to-point direct connected video function.
8. Memory can be taken up to 32GB.(not included)
9. Have the time water mark function.
10. 24 hours circulation video and synchronous support remote monitoring
Specification:
Lens

Viewing angle

120° ultra-wide angle

Video

&

Picture

Resolutions of video

1,280 x 720,640 x 480, 320 x 240 pixels

Frame rate

5 to 30fps(Adjustable in computer client end)

Video format

AVI ( with H.264 compressed format)

Date and time stamp

supported

Memory

Type of memory card

TF flash card(supports 512MB to 32GB)

Record speed

40MB/Min, or 1GB for 25minutes

Work volt

Ac110-240v

WIFI

System requirement

Support Iphone(IOS), Android, Windows all

Signal coverage

30meters without barrier (After connecting to Internet, there will be no limit.

Supported Protocols

HTTPS,DNS,DHCP,PPPOE,SMTP,FIP,SSL,TFTP,NTP,ARP,

PARP,IVFS,RTSP,RTP,RTCP etc

Wireless standard

IEEE 802.11b/g/n