Related parameters
Video format AVI.
Video code m-jpeg.
Video resolution 1920*1080.
Video frame rate 30fps.
Play the software operating system with or mainstream video playback software.
Image format JPG 4032*3024.
Image 5 m pix
Image ratio: 4:3
Support system Windows me/2000 xp 2003/vista:M.
Battery capacity 300mAh.
The working time is about 90 minutes.
Charging voltage DC-5V.
Interface type MIC min5pin.
The storage support micro SD card.
Battery type high-capacity polymer lithium.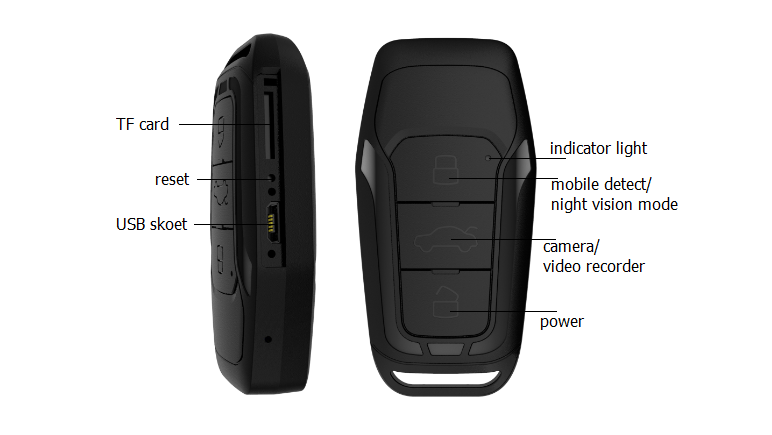 1. Switching machine operation.
Long press the power-on button to start up, the camera starts the system initialization, the red and blue lights blink.After the initial statement, the blue light goes out and the red light is on.
2: taking photos and shooting video.
When the red light is on, the red light is flashing.Long press the camera button, the red light flashes six times,
The machine enters the camera mode.Short press the switch key red light, save the file.Video is 15 minutes a file, the machine has the function of circular recording.The pixel is 1920*1080 connection charger with edge charging edge camera.
3: mobile detection operation.
The red and blue light flashes six times.Enter the motion detection video mode.
4: night vision operation
After starting up, press the night vision button to open and close the night light.
5. Charging display
Connect to the USB cable for charging, red light and bright blue light flashing to indicate that it is charging.When the blue light goes out, the red light is on.
6: moving disk
Use the USB cable that is equipped with the machine, connect the machine to the USB interface on the computer, and the computer desktop will pop up the "movable disk id".(this operation is in the case of inserting the TF card. If no TF card is connected to the computer, it will enter the PC CAM)